Barack Obama, POWER IN THE PEOPLE, July 9 – July 15, 2007
Debate Schedule
July 23, 2007 – Charleston, South Carolina (CNN/YouTube)
August 9, 2007 – Los Angeles, California (LOGO TV/LOGOonline.com streaming)
August 19, 2007 – Des Moines, Iowa
September 26, 2007 – Hanover, New Hampshire
October 30, 2007 – Philadelphia, Pennsylvania
November 15, 2007 – Las Vegas, Nevada
December 10, 2007 – Los Angeles, California
January 6, 2008 – Johnson County, Iowa
January 15, 2008 – Las Vegas, Nevada
January 31, 2008 – California
The Good, The Bad, and The Ugly…. 
Let's Go….
July 9, 2007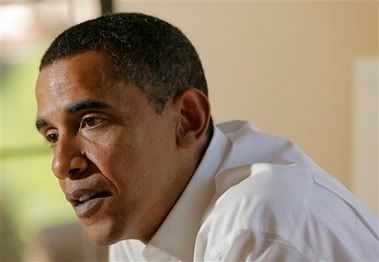 Obama's Alabama stops pull more than $100,000
U.S. Sen. Barack Obama brought his presidential campaign to Birmingham and Huntsville Monday, raking in more than $100,000 to add to a war chest that already has topped $50 million. And the Democratic candidate's swing through Alabama convinced some uncertain voters to come off the fence and support him. Obama began his day in Alabama with a $1,000-a-plate luncheon at the Heritage Club in downtown Huntsville attended by 70 donors. The Huntsville event was closed to the public but a small crowd gathered outside the event caught Obama's attention. It included two men holding signs that read: "Anybody but Hillary Even You," a reference to Obama's main rival for the Democratic Party nomination for the White House, Sen. Hillary Rodham Clinton of New York. As Obama shook hands with the small crowd, he pointed at the two men, chuckled and said, "That's kind of a backhanded compliment." more…
Obama Energizing Alabama Democrats to Build Up Their Party
`Something's got to change'
…"People want something to be for, not just to be against," Obama said to cheers. Dozens of people held up cell phones to take pictures as Obama embraced NBA great and Alabama native Charles Barkley before his talk. The ballroom, with a capacity of 2,500 people, was three-quarters full, but the campaign did not immediately release how many people paid to get in. For $2,300, backers got to chat with Obama at smaller receptions in both Huntsville and Birmingham. Organizers also planned a pair of $1,000-a-person fundraisers for the in-between crowd. The campaign declined to release its expected haul, but Democratic fundraiser Yolanda McLain said she hoped the final tally for the Huntsville events would be around $75,000. Backers cheered Obama as he walked into a private club where the events were held. "We had to keep moving our goal up," said McLain. "We've had people from all over north Alabama calling wanting to attend." more…
Clinton/Obama in '08? Or Not…
Doubts Continue to Nag, Obama
Forget the Polls, Iowa Caucus is WIDE OPEN
Am I reading this article correctly? These people don't give a hoot about poll numbers? What about the Clinton inevitability memo that Mark Penn keep trying to push down our throats? Doesn't that mean anything? Apparently, not. Which goes back to the premise, who is really paying attention here? Yes, national polls state a Clinton lead, but why are the undecideds in double digit? And if you look at the "shoutout" section towards the end, we are looking at Ohio and Minnesota, possibly "jumpin'" in this. So, again, who is really paying attention? I ask this because Jim Gilmore, Republican, former Govenor of Virginia, dropped out of the race. In exiting, he had this statement, "I have come to believe that it takes more than a positive vision for our nation's future to successfully compete for the presidency," Gilmore's statement said. "I believe that it takes years of preparation to put in place both the political and financial infrastructure to contest what now amounts to a one-day national primary in February." That statement says volumes. Gone is the day of winning a couple of primaries and duking it out, this is a one day primary, and if you can not afford the ticket, you are out. That is why Obama is in. Again, I continue to ask the pundits, "why is this guy not DOA, yet?". No one can answer, but I think the public is waiting, looking and watching. As one Iowan, stated in the piece below, "I'm still lookin' at the menu.". Yes, indeed.
Forget the polls. Voters from across Iowa insist that the Democratic caucus here is a wide-open race. Iowans, who are showing up in record numbers for the nonstop visits from presidential hopefuls, plan to take their time before deciding who to cast their vote for in the Jan. 14 caucus, and they"re interested in more than just the three front-runners. "I'm still looking at the menu," said Julie Reeves, a small-business owner and Democratic voter from Oskaloosa. more..
Video of Michelle Obama in New York (real player required)
Michelle Obama on NPR Audio and Text
Gallup Poll: Clinton 37, Obama 21, Edwards 16
Clinton has the support of 37% of the "Democrats and Democratic leaners" surveyed, vs. 33% a month earlier. Obama's support is unchanged at 21%. Gore is the choice of 16%, vs. 18% in June. Former North Carolina senator John Edwards remains in fourth, with 13% support vs. 11% in June. The current numbers for the rest of the Democrats included in the survey: Sen. Joseph Biden, 3%; Rep. Dennis Kucinich, 2%; Gov. Bill Richardson, 2%; former senator Mike Gravel, 1%. Sen. Christopher Dodd drew no support. more…
July 10, 2007 "I love you…" "I love you, back"… aw, shucks…. 
Nation is 'hungry for change,' senator says For a hairdresser and a retired teacher, $7 sausage quesadillas afforded as intimate an experience with Democratic presidential hopeful Barack Obama as most of the supporters who paid $1,000 for beef tenderloin and roasted vegetables. Shirley Jordan, who has been fixing Anita Garner's hair for 20 years, sat with her friend on the patio at Humphrey's restaurant, just a few feet from the alley where Obama would walk to his fundraiser luncheon at the Heritage Club. They arrived 90 minutes before the Illinois senator, their cameras ready. Shortly before Obama walked past, Garner wrote a sign and taped it to an empty chair at their wrought-iron table: "Reserved for our future President Obama." "I like what he has to say," Garner said, her hands shaking with nervousness as she wrote out the sign, "but I'm still in the thinking phase." The presidential contender saw the sign, grinned and took a seat. "Oh, I've got to sit here," he said. Obama posed for pictures with those eating lunch on the patio, and he shook their hands and gave a fourth-grader a fist knock. He commented on what a pleasant place it looked to have a nice lunch. His ease and charisma won over Garner and Jordan. "I don't need to think about it anymore," Garner said. "I'd vote for him. He was fantastic."
Clinton and Obama battle on Iraq in Iowa
Obama challenges rivals on Iraq war
…Obama was in Iowa for what aides had described as a speech on jobs and the economy, but he made it clear that the war in Iraq overshadowed all other issues. "It will be enormously difficult to invest in jobs and opportunity until we stop spending $275 million a day on this war in Iraq," said Obama. He sought to bring home the cost of the war, noting that taxpayers in the congressional district from which he spoke would pay $756.6 million to finance the war by the end of this year, enough to provide health care to 238,000 adults and 339,000 children. "We are about to receive yet another report telling us that Iraq's political leaders have not met a single goal they set for themselves to demonstrate any kind of progress towards stability. Not one goal," Obama said. "Well, they have had their chances and George Bush has had his — we cannot keep our troops in the middle of a civil war that Iraq's leaders refuse to end. It's time to bring them home." more…
Audio Link to Obama's Speech in Des Moines, IA
Democrats to Debate Gay Issues
Obama and Defense
July 11, 2007
Is the Press "Obsesessed" With The Clintons?
No "Do-Overs"
Sen. Hillary Rodham Clinton has long said she will not apologize for her vote to authorize the war in Iraq because there are no "do-overs" in life. Now she and her chief rival for the Democratic nomination, Sen. Barack Obama, agree on that truism. "When I opposed this war before it began in 2002, I was about to run for the United States Senate, and I knew it wasn't the politically popular position," Obama said during a town hall meeting in Des Moines on Tuesday. "But I believed then and still do that being a leader means that you'd better do what's right and leave the politics aside, because there are no do-overs on an issue as important as war," Obama said. more…
Michelle Obama in Austin, TX
Michelle Obama, wife of presidential hopeful Sen. Barack Obama, D-Ill., pushed aside criticism of her husband's inexperience during a visit to Austin, Texas. Obama said that in addition to his U.S. Senate term, her husband had a great deal of experience in politics including 25 years as a Chicago community activist, civil rights lawyer and Illinois state senator, the Austin American-Statesman reported Thursday. "Everybody in this race brings a different set of experiences," she said. "What I'm saying: It's not a question of experience … That issue is off the table. The question is: Who's going to take this country to the next step? Who's going to be able to connect with people?" more…
Obama launches book
Obama and Dinner Contestants Interview with David Gregory, NBC News
Obama, Clinton, Sharpton Headline Hispanic Conference
Democratic presidential candidates Hillary Clinton and Barak Obama, the Rev. Al Sharpton and Wal-Mart CEO Lee Scott will headline the National Council of La Raza's conference in Miami next week, the group announced Tuesday. The annual event is expected to draw thousands of Hispanic students, business leaders, community organizers and officials for four days of educational forums and a little fun. Pop singer Elvis Crespo and Miami's own rapper Pitbull will provide entertainment. The Council will use the event to kick off a national campaign with Univision to register Hispanics to vote in advance of the 2008 election. The campaign expands on the Los Angeles-based program "ya es hora" or "now is the time" to register new citizens. "We want to show that the Latino vote is important, that Latino voter turnout can make the difference," said Janet Murguia, NCLR president. more…
Tucker the Tool
Obama's Alma Mater, a Green Leader
 July 12, 2007
 Obama Endorses Higher Taxes for Private-Equity and Hedge Funds
That's More Like It, Barack
Sen. Barack Obama is indeed a quick study. After looking surprisingly unpolished in a nationally televised forum targeting black audiences nearly two weeks ago, Obama held his own against his closest rival, Sen. Hillary Clinton, at the 98th NAACP National Convention at Cobo Hall in Detroit on Thursday morning. Obama, who is pitting change against experience in the 2008 Democratic primary, got off more than a few crisp one-liners while crafting a message that at times elicited thunderous applause that drowned out some of his words, but obviously bolstered his confidence in the debate arena. "If you are poor in this country, it is hazardous to your health. If you are black and poor, that's downright deadly," Obama said in response to a question about health care posed by a delegate and given to the candidates in advance of the forum. "We will not close the gap until we create a system of universal health care. The way to do that is to ignore the insurance companies and drug companies. In negotiations, it's OK for them to have a seat at the table, but they can't buy every single chair." more…
Obama Trades Up for Hybrid Obama Response to Bush Press Conference on Iraq
"Does this White House think that we don't know how to turn on our televisions? Don't tell us we're making progress in Iraq when the last three months have been some of the deadliest since this war began for our brave troops who have sacrificed so much. And don't tell us it's progress when the Iraqi leadership has done nothing — nothing — to take the political steps necessary to end their civil war. This war has only fueled the terrorist threat whose strength is now at pre-Sept. 11 levels. It should never have been authorized, never have been waged, and it must end now."
Hirschberg Endorses Obama
Gary Hirshberg, president and chief executive officer of Stonyfield Farm Yogurt of Londonderry, and his wife, Meg, have endorsed Illinois Sen. Barack Obama for the Democratic nomination for president. Hirshberg originally came out in support of Iowa Gov. Tom Vilsack, but when Vilsack discontinued his campaign earlier this year, the Stonyfield Farm boss, community leader and environmental activist started searching for another candidate to back. "I didn't know Barack Obama at the time," Hirshberg said during a press conference with New Hampshire reporters Monday. "Obama's competency and abilities to manage and administer a campaign increased his stock with me. "There has been no campaign in my memory that's been as organized as the Obama campaign," he said, "and we're not hiring a chief legislator, we're electing a chief administrator." more…
Obama Fundraiser in Grand Rapids, MI
Democratic presidential candidate Barack Obama slipped into town Thursday evening, not so much seeking votes as bucks. He went away with more than the $100,000 the host committee had set as a goal, said Patrick Miles Jr., a Grand Rapids attorney and classmate of Obama's at Harvard Law School. Brent Slay, a retired Plainfield Township businessman and friend of former President Jimmy Carter, said the invitation-only reception raised more than $125,000 for Obama, the leading fundraiser among Democratic presidential hopefuls. Obama collected $32.5 million over three months, although he trails Sen. Hillary Clinton, of New York, in most polls. "For being in the middle of a Republican enclave, I think it was an extraordinarily good turnout," Slay said, adding more than 125 peo ple attended the reception at the home of Ralph Mathis, a retired obstetrician, and his wife, Yvonne. "There were people from all walks of life," Slay said, including Republicans, Democrats and independents. more…
Obama in Utah, August 5th
Sen. Barack Obama, a Democratic presidential frontrunner, will make a campaign fund-raising stop in Park City on Aug. 5. Mark Gilbert, who splits his time between his home in Boca Raton, Fla., and Park City and is on Obama's national financial committee, is organizing the brief visit. Gilbert says in the five years he has owned a home in Park City, he has found a large circle of loyal Democrats. "Yet you've never seen any of the prominent Democratic candidates make campaign stops in Utah," he said. "I thought it would be great to bring the senator to Park City." more…
Dan Rather on Camp Obama
July 13, 2007
Democrats Lead In Raising Money Online
Obama Winner from NAACP Forum
If there was a "winner" from yesterday's NAACP forum, it was Obama, judging by today's clips. Perhaps Obama's presentation was bolstered by the help of preparation, as he came to the podium with more notes than he normally does. From the New York Times: "Although this was not a debate — the event was billed as a forum for ideas — it was as if Mr. Obama, the only black candidate, enjoyed the home field advantage over the seven other Democrats and one Republican who had accepted invitations. And he performed as if he knew it." more…
Audio of Barack Obama After NAACP Forum
Rasmussen Poll: Clinton 38, Obama 26, Edwards 13 This polling has been pretty stagnate, and I expect it to continue throughout the summer. The movement will come in the fall, when the rest of the populus is tuned into these campaigns and debates. From here on out, Obama must step it up, period.
While Illinois Senator Barack Obama is the fundraising leader, New York Senator Hillary Clinton remains the clear frontrunner in polls for the Democratic Presidential nomination. The latest Rasmussen Reports national telephone survey finds Clinton with 38% of the vote, Obama at 26% and former North Carolina Senator John Edwards at 13%. Those results are virtually unchanged from our previous poll. Clinton has been gaining ground steadily in recent months. This week's poll support of 38% matches her average for the preceding four weeks. During the four weeks before that, she averaged 35%. That figure itself was up three points from the preceding four weeks total of 32%. New Mexico Governor Bill Richardson is favored by 3% of Likely Democratic Primary Voters. Senator Joe Biden, Senator Chris Dodd and Congressman Dennis Kucinich each attract 2% of the vote. Former Senator Mike Gravel remains below the 1% mark and 13% are undecided. Clinton and Obama have topped the polls and the fundraising since the beginning of the campaign season. Despite their lead, 46% of all voters still believe the Democrats are likely to nominate a white male for President. Thirty-eight percent (38%) say they are not likely to do so.
Clinton War Plan "Convoluted"
Democratic presidential candidate Barack Obama said Friday that his top rival's attempt to pressure the Bush administration to end the war in Iraq is "a convoluted approach to the problem." Sen. Hillary Rodham Clinton plans to introduce an amendment repealing the congressional authorization for the war. It would require the president to seek new authority from Congress if he wanted to continue operations past Oct. 11, 2007, five years after initial authorization was given. "If you simply repeal the language, then presumably you'd have to reauthorize something. You've got 150,000 troops over there and support personnel," Obama told The Associated Press in an interview after a campaign stop in Las Vegas. "Why we would try that approach as opposed to simply setting a timetable for withdrawal strikes me as a convoluted approach to the problem," he said. more…
Obama Got More "Religion" Than Any Other Democrat
In this campaign season, if Clinton and Barack Obama and John Edwards are any measure, there will be nothing unusual in Democrats' talking about the God who guides them and the beliefs that sustain them. Clinton has hired Burns Strider, a congressional staffer (and evangelical Baptist from Mississippi) who is assembling a faith steering group from major denominations and sends out a weekly wrap-up, Faith, Family and Values. Edwards has been organizing conference calls with progressive religious leaders and is about to embark on a 12-city poverty tour. In the past month alone, Obama's campaign has run six faith forums in New Hampshire, where local clergy and laypeople discuss religious engagement in politics. "We talk about ways people of faith have gone wrong in the past, what they have done right and where they see it going in the future," says his faith-outreach adviser, Joshua DuBois. Speeches on everything from the budget to immigration to stem-cell research are carefully marinated in Scripture. "Science is a gift of God to all of us," said House Speaker Nancy Pelosi during a debate on increased embryo-research funding, "and science has taken us to a place that is biblical in its power to cure." more…
Party for 150, C'mon Over!!!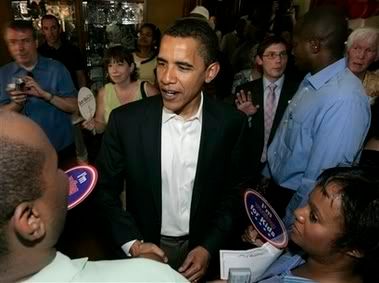 Obama at Nevada Houseparty
Just Because Clinton is the Frontrunner, Does Not Mean Obama Can't Win
If ever there were a Nevada politician who would seem tailor-made for the Nevada chapter of the Hillary Clinton presidential campaign, she is Reno Assemblywoman Sheila Leslie. Liberal, female and ambitious – sound familiar? – Leslie's career has been filled with forays into progressive causes such as improving health care and helping the less fortunate. She was a natural to be the next in the cascade of Nevada elected officials to endorse the New York senator. Instead, Leslie was one of two state lawmakers (the other was Sen. Steven Horsford) rolled out by the Barack Obama campaign as leaders of his Nevada effort. Leslie's alignment with Obama is emblematic of why the Illinois senator, despite his youth and relative inexperience, is considered such a threat to front-runner Clinton in the race here and nationally. Leslie's explanation for her decision also surely echoes similar endorsements across the country. "I'm really excited to be part of his campaign," Leslie told me this week. "After meeting with him and seeing how he interacted with people, I really did get the sense that he could be the inspiring leader our country needs. It's time for a change, to bring our nation back to the place where we are all proud of ourselves again." And, Leslie added, "His consistent position against the war was the tipping point for me." As opposed to Clinton, for whom sorry seems to be the hardest word to say to appease many of the faithful. more…
Obama Names Nevada Steering Committee
Democratic presidential candidate Barack Obama, who is campaigning in Las Vegas today, announced a team of high-profile Nevada supporters on Thursday. The committee is made up of state Sen. Steven Horsford, D-Las Vegas; Assemblywoman Sheila Leslie, D-Reno, businesswoman and consultant Rose McKinney-James; Democratic guru Billy Vassiliadis; and education activist Elaine Wynn, wife of casino mogul Steve Wynn. "I am proud to have the support of this group of respected leaders and looking forward to working with them as we build a strong team of Nevadans committed to changing our politics so that we can meet the challenges facing our country," Obama said in a prepared statement. more…
Veterans for Obama
Tucker the Tool
July 14, 2007
Obama Opens Lowcountry Office in South Carolina
Shift troops to fight al-Qaida
The U.S. should shift troops from Iraq to pursue al-Qaida along the Pakistan-Afghanistan border, Democratic presidential candidate Barack Obama said Saturday. He said President Bush's war-fighting policies have left the United States at greater risk from terrorists. The first-term Illinois senator said decisions by the Republican president had allowed Osama bin Laden and his deputies to elude capture. "We cannot win a war against the terrorists if we're on the wrong battlefield," Obama said. "America must urgently begin deploying from Iraq and take the fight more effectively to the enemy's home by destroying al-Qaida's leadership along the Afghan-Pakistan border, eliminating their command and control networks and disrupting their funding." Obama spoke during his 15th trip to Iowa, where precinct caucuses set for January begin the presidential nominating process. He opened his day with a rally on the shores of a lake in Oelwein before his later stops. more….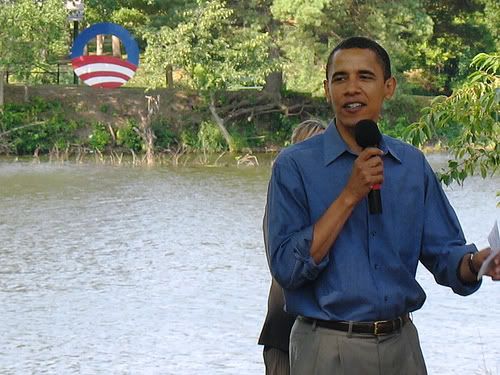 Obama in Oelwein, IA (Lake Oelwein backdrop)
Bush Has Made Us Less Safe, and about that open mic…
Obama, after the Oelwein event , also criticized comments caught by an open microphone made earlier in the week between former North Carolina senator John Edwards and New York senator Hillary Clinton. Clinton and Edwards suggested that lesser-known candidates should not be part of debates, in an effort to focus on frontrunners. "I don't know how you would draw the line to say that some can participate and some can't," Obama said. "Particularly when you know, historically, Bill Clinton for example, was at 2 percent in the polls in some of these early contests and ended up showing himself as an extraordinary campaigner as a consequence of him having a chance to be a part of it. My attitude is the more the merrier." more…
Obama in Manchester, Elkader, and Oelwein, IA
Obama's Money Can't Buy Clinton's Honey
Obama in the House
It's hot at the Williams home in Las Vegas, and as the crowd arrives, the air becomes stifling, pungent with the smell of packed humanity. But no one is moving because Barack Obama is expected soon. Melinda Gallien has never worked on a campaign, and has voted only once, but she's such an active volunteer that she's been invited to this private party of 150 people. Why the devotion to the Obama campaign? "Obama," she says, looking flabbergasted at the question. She has a 4-year-old, and Obama is the best hope for change, she says. more…
Obama and the Culinary Union
…Obama met with two reporters after finishing talking with a small group from the Culinary Union, the 60,000-strong local representing Las Vegas hotel and restaurant service employees. The union, now in the midst of citywide contract talks, reached a settlement last month with Harrah's Entertainment, which owns Caesars. That deal included the union's largest-ever wage and benefits package. It also continues to give the Culinary an easy "card check" method of organizing workplaces, including those managed by third-party operators. Wages and benefits and card check are major sticking points in the union's ongoing talks with MGM Mirage, and workers involved with the Harrah's negotiations told Obama on Friday that nothing less than the union's future was at stake. more…
Obama/Bayh: Responsible Fatherhood and Healthy Families Act of 2007
July 15, 2007
Howard launches attack on Barack Obama
PRIME Minister John Howard has launched a broadside against US presidential hopeful Barack Obama, warning his victory could destroy Iraq and prospects for peace in the Middle East. Mr Howard's stinging attack against the popular Democrat, who formally launched his bid for the Democratic candidacy overnight, also appears to commit Australian troops to staying in Iraq well into 2008. Only days after saying Australia's alliance with the US was about more than his personal friendship with US President George W Bush, Mr Howard warned that an Obama victory would be a boost for the terrorists. The man who wants to be the first black US president has pledged to withdraw US troops from Iraq by March 2008, a timetable Mr Howard believes is dangerous. "I think that would just encourage those who wanted completely to destabilise and destroy Iraq, and create chaos and victory for the terrorists to hang on and hope for (an) Obama victory," Mr Howard told the Nine Network. more…
Afghan Borders TOO Weak
"What I would say is that as a consequence of bad decisions, we are more at risk and less safe than we should have been at this point, given all the resources we have spent and the U.S. lives that have been lost," Obama said. Obama contended the Bush administration erred by choosing to fight in Iraq rather than concentrating on Afghanistan, where he said al-Qaida has rebuilt itself. "They have entirely re-grouped along the Afghanistan-Pakistan border," Obama said. "The threat of terrorism has actually increased, and we've seen a massive spike in terrorist activity, in part because we did not finish the job in Afghanistan and were distracted by a war of choice in Iraq." Obama stuck with the issue of terrorism during a later stop in Manchester, where about 300 people packed into a school gymnasium, even with a popular county fair just across the street. "When I am president of the United States I will make this pledge: Nobody will work harder to go after those terrorists who will do the American people harm," Obama said. "But that requires a commander in chief who understands our troops need to be on the right battlefield, not the wrong battlefield." more…
Between Barack and a Hard Place
The cast of Second City's "Between Barack and a Hard Place" found itself playing to a woman presumably familiar with that very spot. Michelle Obama, the wife of the senator and presidential candidate, turned up Friday at the theater on Wells Street. She was joined by Maya Soetoro-Ng of Honolulu (Sen. Barack Obama's half sister), and her husband, Konrad Ng. And even though the edgy show features everything from a gay assassin (who falls in love with his mark) to an appearance by Abraham Lincoln, who insists on calling the senator B.O., the Obama family group laughed uproariously all night. more..
Immediately Withdraw One Third of Troop Level
Iraq was the topic of interest for Democratic presidential candidates yesterday, with Barack Obama calling for the United States to shift troops from there to pursue al-Qaida leaders, and John Edwards saying he would immediately withdraw nearly a third of U.S. forces. more..
Obama, Clinton Not the Dream Candidate
Hatin' On Newsweek
New Finance Report Will Show Obama Outraised Entire 2008 Field
More about that, Open Mic, snafu
Concord Monitor Poll Numbers, New Hampshire 
Again, this is early, but Obama is making small in roads, meaning Clinton is supposed to be blowing him out, and this does not include the independents, which vote in New Hampshire primaries. Over on mydd there is a total breakdown, with Gore in the race. At this point, these polling companies need to "eliminate" Gore from the matrix. Until then, how can you really believe these numbers?
The poll also found challenges on the general election horizon for Romney and Clinton. Neither is the strongest in head-to-head matches with candidates from the other party. And the voter pool as a whole likes each less than they do the runner-up in each race. For Romney, 35 percent of voters see him favorably, but 41 percent see him unfavorably, giving him a net favorability rating of negative six. Giuliani's net favorability is plus 14. On the Democratic side, Clinton's net rating is plus 7; Obama's is plus 17. In head-to-head match-ups with each of the top Democrats, Giuliani does best; Romney fares poorest in every case, never cracking 40 percent. "That's interesting, because he spent a lot of money in the state on advertising," said Linda Fowler, a Dartmouth government professor. "He's basically been saying that he's the guy who can win because he can both appeal to the conservative base and also appeal to moderates. And you'd think in New Hampshire – which was his backyard when he was governor – that doesn't look too convincing, does it?" Ali, the pollster, said Romney appears to lack support outside the Republican base. "I think outside the constituency of Republican Primary voters, there's just no appeal for Romney," Ali said. "It's a combination of: They know him and they don't like him." Romney spokesman Craig Stevens said that the former Massachusetts governor doesn't walk into the race with broad name recognition, unlike Giuliani or McCain, and that he hasn't had much chance to make his case to groups beyond Republican primary voters. "The more people hear Mitt Romney the more people like Mitt Romney," he said. On the Democratic side, Clinton wins head-to-head match-ups with all of the poll-topping Republicans, but Obama outpaces her by a point in almost every case. She also has 40 percent of voters rating her unfavorably, the highest rating in her party. more…
Obama bemoans 'epidemic of violence'
Standing before a church congregation that has witnessed inner-city violence firsthand, Democratic presidential hopeful Barack Obama said Sunday that more must be done to end a social ill that is "sickening the soul of this nation." Obama told churchgoers at the Vernon Park Church of God on Chicago's South Side that too many young lives are being claimed by violence and more must be done to combat the problem. "From South Central L.A. to Newark, New Jersey, there's an epidemic of violence that's sickening the soul of this nation," the Illinois senator told the crowd. "The violence is unacceptable and it's got to stop." Nearly three dozen Chicago students have been killed this year, according to Chicago Public Schools. Obama said that figure is higher than the number of Illinois serviceman who've died in Iraq in 2007. "We need to express our collective anger through collective action," Obama said. He said the government needs to permanently reinstate an assault weapons ban and close regulatory loopholes that protect unscrupulous gun dealers. He also said government should support and fund more after-school programs to keep kids off the streets. But some of the burden must also be shouldered by residents who need to do more to raise and protect at-risk children, he added. more…
Shoutouts: Filed Under: No S*#t; horizonr is on IT; partner "in crime", lovingj; did you miss Micheal Moore, calling out Wolf Blizter? here; analysis of 2008 Democratic Primary, by PsiFighter37; missing any money?; is Minnesota jumping the shark?; oh, no, OHIO!!!; really want to know what iraq is about, read, then weep; iraqi leader, we don't need you, USA; Iraq Casualty List; uh, yeah, Bush is unbalanced; missed your cup of hypocrisy this week? eat and drink up; WTF?; why he's campaigning after 42 years; Screw "Ready To Lead" Obama Doubt ; Geekesque, gets it, Barack Obama: Not So Nice; wanna watch the "sneak peek" of Obama Girl vs. Rudy Girl? yeah, here; and to donate to Senator Obama's Campaign, click here.
Lastly, we all know that President George W. Bush is in a "state of denial". After watching his press conference, about Iraq, there is only one conclusion, for me, President Bush is living in a "bubble" or he is totally from another planet. LITERALLY. Anyone who can not see the forest, before the trees, has issues. President Bush's rise and demise will be written by many historians and pundits for years to come, but now we have a chance to try to put "reality" back on the table. Senator Obama is asking us, "Citizen Joe" and "Citizen Ruth" to make your displeasure known, by writing a simple letter to your local newspaper and your national newspaper, then emailing it to the editor.
The Obama Campaign has made this task simple, easy, non-time consuming and effective, by the stroke of your zip code. All the tools are there by a click of your mouse. You have tips, talking points, at your convenience, along with the option of using the standard letter, given, or composing one yourself.
This is not much as some would state, and "who cares" by others, but it is an option to voice your resentment and displeasure of how this government has mismanaged this war. Many are angered and frustrated with this government, rightfully so. Many feel, that we are not being acknowledged or listened to, I agree. In the end, we do have the final say, we the people. I, do believe there is power in the people. Power in you. And power in the keyboard. LET'S USE IT.
This says it all, guys…..
                                            remember to focus on Obama, and not the Drama….
email me for any questions, and read ya, next week….